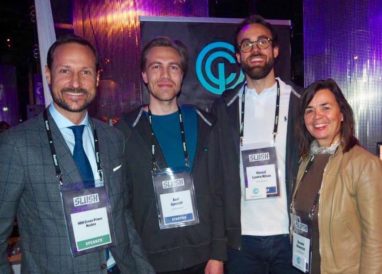 Successful Norwegian Fintech booths at Slush with Fintech Mundi
Norway's promising fintech companies Cloud Insurance, Prego and Payr had booths at Slush in Helsinki early December in collaboration with Fintech Mundi. The Crown Prince of Norway visited our booths at Slush and had good entrepreneurship conversation with all the Norwegian fintech companies.
Slush is held during the darkest time of the year in Helsinki, Finland, Slush has always been characterized by a unique energy and enthusiasm. The very core of Slush is to facilitate founder and investor meetings and to build a world-wide startup community. More than 17,500 ATTENDEES, 2,300 STARTUPS, 1,100 INVESTORS and 600 JOURNALISTS were present.
"We are amazed by how many bank and insurance companies visited us at our booth," says Axel Sjøstedt, CEO Cloud Insurance a Norwegian Fintech startup already having footprint in 19 countries and four continents. Cloud Insurance is a Software-as-a-Service platform for the insurance industry, with extensive policy and claims management capabilities.
"We plan for an IPO," says Ronald Eriksen, Chairman at Prego International which is an international Fintech with everyday banking for the unbanked. Started in Malaysia with additional hubs in the Nordics and UK, total invested capital so far is in excess of USD$ 7 million with global investors. Meeting investors and customers at Slush is great for Prego.
"We are here to attract investors and customers," says Espen Grimstad, CEO Payr. "We have just received e-money license from NFA Norway and Payr is the next generation payment platform app empowering consumers to pay invoices in flexible and smart ways. Our customers can pay any invoice using bank account, debit or credit card or digital wallets, saving time and money. You can even save up bonus points on your credit card, while paying your regular invoices."