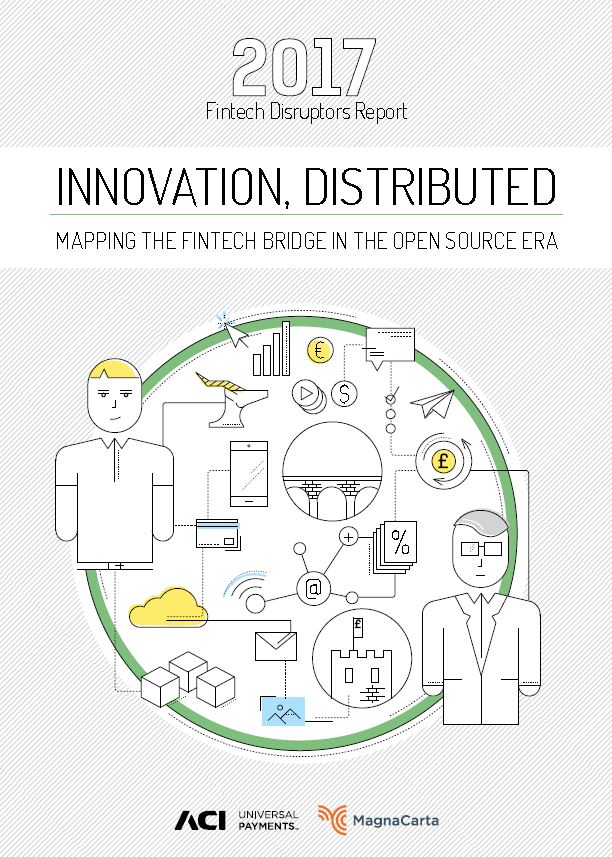 Majority of European Banks say partnering with Fintechs is essential to Future of Financial Services Delivery
A survey of financial institutions, fintech start-ups and ecosystem participants across Europe, Africa and the Middle East has revealed that the convergence between the strategies of fintechs and traditional financial institutions such as banks and insurance companies is rapidly gathering pace.
According to a survey conducted by MagnaCarta Communications on behalf of global payments company ACI Worldwide, more than three quarters (78%) of traditional players are now actively seeking partnerships with fintechs in order to create digitally based services and applications for customers and believe that collaborating with fintechs will help them to achieve their goals faster and more cost effectively.
The ACI 2017 Fintech Disruptors Report finds that such partnerships are taking a wide range of forms, from selective collaborations and in-house acceleration programmes to acquisitions, joint ventures and, for some banks, a blended approach that includes a combination of some or all of the elements above.
Collaborating comes with a range of benefits for all players, the research shows: Fintechs look to banks for help with financing or to get access to a broad customer base, whereas traditional players are increasingly looking to work with fintechs in order to develop new applications and generate new revenue streams.
Key findings of the report:
Top areas of fintech investment in 2017: Over half or respondents (56%) said payments was the biggest area of investment for next year with the global push for real-time payments quoted as a major theme, followed by e-Commerce (36%) , consumer banking (35%) and security and fraud management (28%).
Biggest opportunities: Banks say the biggest opportunities for collaboration with fintechs are in the areas of developing APIs (46%), mobile applications (43%) and Data Analytics (38%).
Global fintech hubs: 79% of all respondents say North America will remain the global centre of fintech innovation over the next five years, followed by the UK (67%), Europe (43%) and China (43%)
Brexit Impact: More than 50% of respondents believe the UK's vote for Brexit will have little or no impact on European fintech development and financing.
Africa as biggest opportunity for growth: The African continent with its large unbanked population, estimated to be as high as 90% in some countries such as Nigeria, is widely viewed as the region with the greatest potential for fintech applications.
Paul Thomalla, SVP for Global Business Development at ACI, comments: "Our research shows that the transition from an analogue to a digital banking model and from complete to shared ownership is well underway. Traditional players and fintechs have realised that neither tribe can win in isolation and that collaboration is the way forward for those who want to succeed in the new payments and banking world.
"Up until recently the relationship between finetchs and banks has always been a bit like that between children and their parents. Fintechs were the rebellious teenagers who wanted to do things differently and banks were a bit like parents who didn't take them seriously enough. Today both sides are recognising that they need each other. Fintechs have great ideas that are in demand and banks have the finances and the scale to commercialise these ideas.
"Businesses on both sides of the bridge that are ready to adapt to the new terms of the alliance will share the rich rewards to be won from combining institutional scale with entrepreneurial agility."
Simon Hardie, Partner at MagnaCarta Communications, who conducted the research, added: "Our survey demonstrates that fintechs and traditional financial institutions are now closely aligned in both their aims and approaches. The fact that both industry groups are now keen to forge partnerships suggests that, if anything, we are likely to see acceleration of the current rapid pace of development of new financial technologies in 2017 and beyond.
"Challenges remain, notably in aligning the cultures of large organizations and start-ups; however, we believe an increase in the current phase of mass development will lead to the adoption of a revolutionary digital delivery platform for financial services within the next ten years."
Download a copy of the Fintech Disruptors 2017 Report