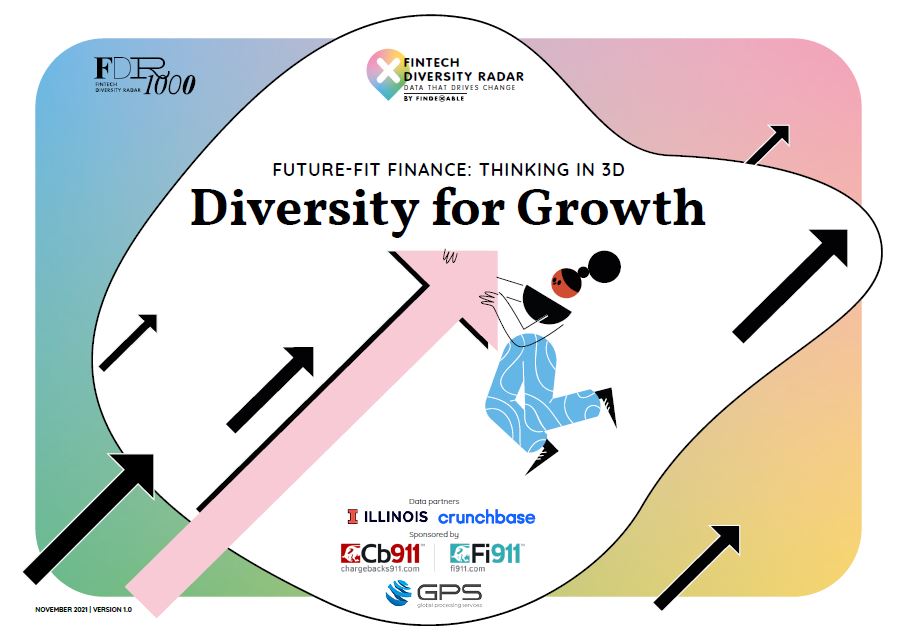 Fintech Diversity Radar for Growth – 2021
findexable and Fintech Mundi are delighted to announce the launch of our inaugural Diversity for Growth Report, in partnership with fintech firms Chargebacks911 and Global Processing Services (GPS).
The report is the cornerstone of our Fintech Diversity Radar, the world's first global platform to accelerate diversity in fintech.

In the report, we uncover systemic underrepresentation of women in the fintech industry, including:
A new 1% club: Only 1.5% of the best funded private fintech firms globally are founded solely by women and receive just 1% of total fintech venture funding.
No seat at the table: Women make up 11% of all board members and 19% of company executives.
West is no longer best: Asia has the highest proportion of female founders at 7.7%, and Africa and the Middle East are the leading regions for the proportion of female CEOs.
The tech gender gap: Less than 4% of women globally hold the title of Chief Innovation or Technology Officer.